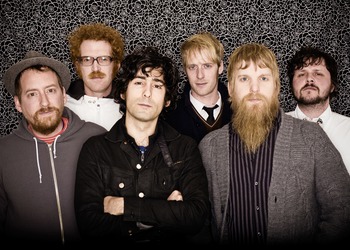 [new promo photo by Todd Roeth! click for way hi-res.]
Hey guys!
Lots of new stuff announced today!
First,
here's a free mp3
of "Heaven and Earth" off the new album. You can also stream it here:
Blitzen Trapper - Heaven And Earth
Second, the new album is called
Destroyer of the Void
and it comes out 6/8 on Sub Pop. Here are some words by way of explanation:
During two distant and brief breaks from the band's near-incessant touring for Furr—one in January 2009 and the other in January 2010—Earley and a few of his bandmates entered the attic studio of the lauded Portland musician and studio engineer who had recorded Furr standouts "Lady on the Water" and "Black River Killer," Mike Coykendall (Bright Eyes, M Ward, She & Him). In those two winters, in that old attic, Coykendall worked with Earley to bring life to these songs, including material the songwriter had been working on for years, most notably the piano ballad "Sadie." The producer wasn't the only local luminary to fill out the album. Preternatural musical siblings Peter Broderick (Horse Feathers, Efterklang) and Heather Woods Broderick (Efterklang) wrote the album's string arrangements, while folk standout Alela Diane lent her angelic vocals to the duet "The Tree." [more]
Third, this is the tracklist:
01 Destroyer of the Void
02 Laughing Lover
03 Below the Hurricane
04 The Man Who Would Speak True
05 Love and Hate
06 Heaven and Earth
07 Dragon's Song
08 The Tree [ft. Alela Diane]
09 Evening Star
10 Lover Leave Me Drowning
11 The Tailor
12 Sadie
And (fourth) here are a bunch of new tourdates!
03-28 Portland, OR - McMenamins Kennedy School
05-15 Minehead, England - ATP Festival
05-17 London, England - Borderline
05-18 Utrecht, Netherlands - Tivoli
05-19 Antwerp, Belgium - Trix
05-20 Groningen, Netherlands - Vera
06-02 Spokane, WA - Knitting Factory Concert House
06-03 Missoula, MT - The Palace
06-04 Bozeman, MT - The Filling Station
06-06 Fargo, ND - The Aquarium
06-07 Omaha, NE - Slowdown
06-09 Atlanta, GA - Variety Playhouse
06-10 Manchester, TN - Bonnaroo Music Festival
06-13 Charlotte, NC - Casbah at Tremont Music Hall
06-14 Washington, DC - 9:30 Club
06-15 Philadelphia, PA - Trocadero Theatre
06-16 New York, NY - Webster Hall
06-18 Lancaster, PA - TBA
06-19 Pittsburgh, PA - Diesel Club
06-20 Cincinnati, OH - TBA
06-21 St. Louis, MO - Off Broadway
06-22 Kansas City, MO - Record Bar
06-24 Aspen, CO - TBA
06-27 Albuquerque, NM - TBA
06-28 Phoenix, AZ - TBA
06-29 Los Angeles, CA - El Rey Theatre
07-01-02 Quincy, CA - High Sierra Music Festival
08-01 Montreal, Quebec - Osheaga Festival
We're all super excited for all these new things. Hope you are too!